DNET
Imaging
Imaging for optimized detection of DNET:
MRI should include thin slice volumetric T1-weighted images, axial and coronal T2-weighted and FLAIR images.
Imaging characteristics of DNET:
DNET's are typically cortical lesions that lack significant mass effect or peri-tumoral edema
They are hypointense on T1-weighted images and hyperintense on T2-weighted images, typically with a 'bubbly appearance' due to their multicystic nature
They may show rings of enhancement, seen on FLAIR ('bright rim sign')
They may be associated with scalloping of the inner table of overlying skull bone, without actual skull bone erosion
They may show calcification (seen in ~30%), this may be best seen on CT or T2* weighted MR imaging
DNET's can co-occur with focal cortical dysplasia (which is usually found adjacent to the DNET) and/or with hippocampal sclerosis.
Imaging of a DNET
The three images below are a T2-weighted, T1-weighted and FLAIR image of a DNET in the same patient, demonstrating the multicystic appearance, with a 'bright rim sign' - a ring of enhancement, seen on the FLAIR image .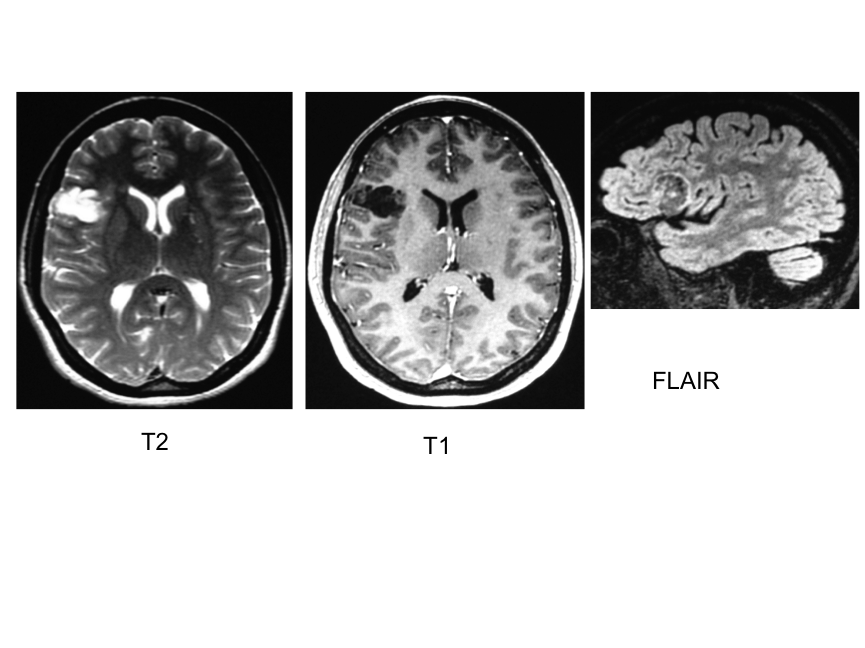 Imaging of a DNET with focal cortical dysplasia (FCD IIIb)
The image below is a coronal image showing a right basal temporal structural abnormality, which includes an area of gyral expansion, with cystic appearance, and neighboring abnormal signal in white matter, with blurring of the grey-white matter junction. This abnormality was confirmed following resection to be a DNET with adjacent focal cortical dysplasia (FCD IIIb).